Gousto PR
Flavour Saviour
Table for 1 million
Flavour Saviour

Brief: Position Gousto as a brand with choice, variety and flavour at its core, accessible to everyone.

There are over 200,000 cases of long-term anosmia in the UK, and with diagnoses still coming in, this number could be the tip of the iceberg.

Tapping into cultural conversation around prolonged loss of smell and taste as an after effect of COVID-19, we will use the upcoming lockdown anniversary news hook to launch a comprehensive study of how this has impacted the nation, and be a leading, authentic part of the solution.



Messaging


For the love of flavour
Reconnect with your sense of smell and fall back in love with food with a free limited edition Flavour Saviour kit from Gousto and AbScent.

We believe flavour is one of the great loves of life. It's been two years since the nation first locked down, and more and more food lovers are dealing with the loss of their senses, even after recovering from COVID. So we've joined forces with the experts at AbScent to help COVID recoverers reclaim their ability to taste, rediscover the foods they love, and bring back the joy of mealtimes.

Retrain your taste and smell receptors today with one of our FREE limited edition Flavour Saviour kits. With specially-selected recipes from our chefs and advice from AbScent scientists, start cooking up meals that re-engage your taste buds and fall back in love with food.


Website flavour-saviour.co.uk



Blog posts
Recover your senses with these smell training tips
Enjoy food without your sense of smell
Email to Gousto customers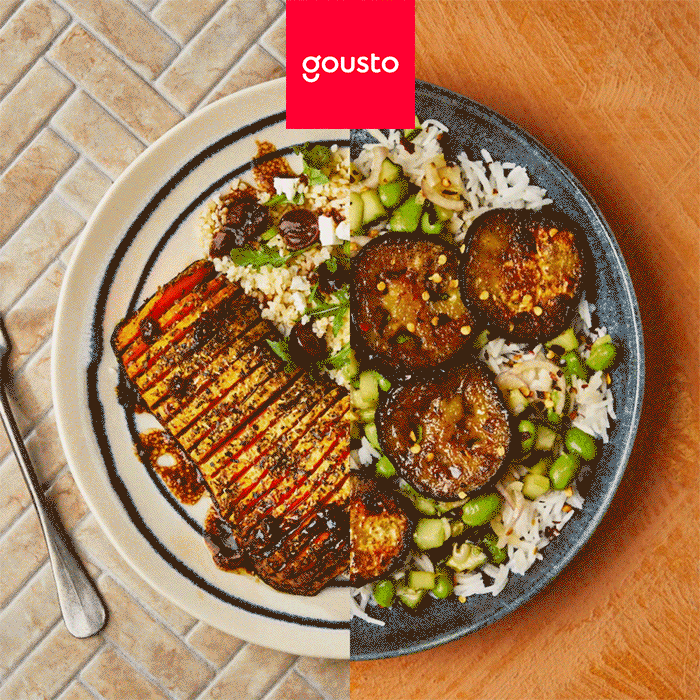 Instagram post (link)
LinkedIn Post
Influencer promo (link)

Box design
In-box leaflet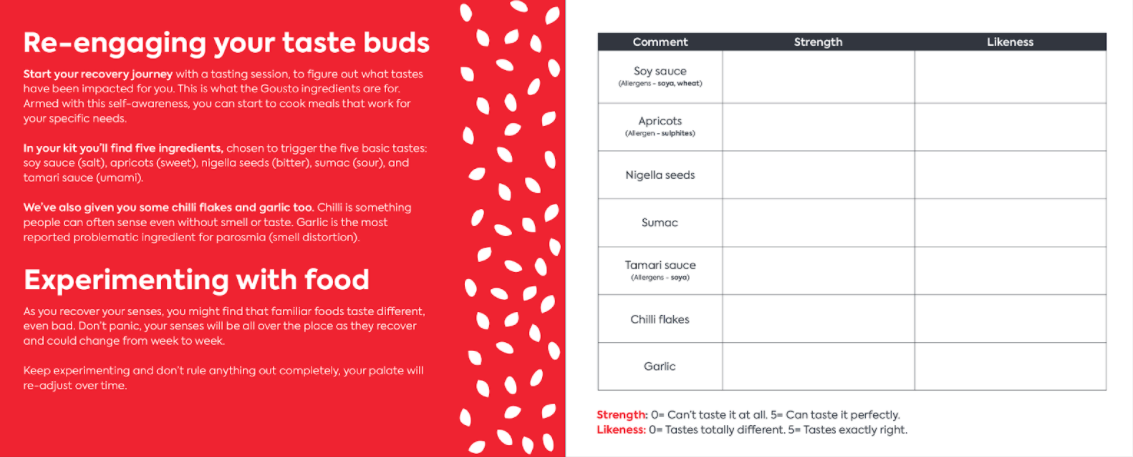 Coverage

"Katherine Ryan reveals she felt 'helpless' when losing her sense of smell to COVID-19" - The Daily Mail

"Katherine Ryan says she still hasn't regained her sense of smell after having COVID" - The Independent

"Smell and taste saviour kit launched as thousands still suffer Covid symptom" - Wales Online

"Gousto launches smell training kits as Long COVID sufferers 'fall out of love with food' after losing smell and taste" - Food Navigator

"Loss of smell post-Covid causes people to lose their love of food" - New Food Managazine

"Smell and taste saviour kit launched as thousands still suffer Covid symptom" - Daily Advent

Featured in PR Week's newsletter in the weekly hits.


109 coverage hits (56% above KPI), 28 top tier hits

334k organic social reach (78% above KPI)

14,000 microsite visitors

16% email CTR (vs brand average of 3.5%)

CREDITS
Senior Copywriter: Sophie Lain
Senior Designer: Emily Crook
Senior Brand Manager: Catherine Wagner-Veary
Social Media Team: Nikita Mayley-Craig, Megan Allcock
PR Team: Natalie Jay, Emily Hoyland, Poppy Bertram
Photographer: Max Jowitt
Food Stylist: Rosie French
Head of Creative: Katie Rosen
Brand VP: Anna Greene
PR Agency: Manifest



---
Gousto's Table for 1 million

Table for 1 million was a hugely ambitious campaign - a first for Gousto - where we set out to create the biggest ever virtual dinner party hosted by Nick Grimshaw and 4 much-loved celebs, all to raise money for food banks.

Social posts


Our goal with Table for 1 million was to raise brand awareness and brand love - to really push the creative bravery of content to engage with our audience in a more meaningful way, using copy that spoke to the state of the nation during the early weeks of lockdown - with a warm, celebratory, and comforting tone of voice.



Teaser (instagram stories)

Landing page
Celeb announcement email
Last reminder email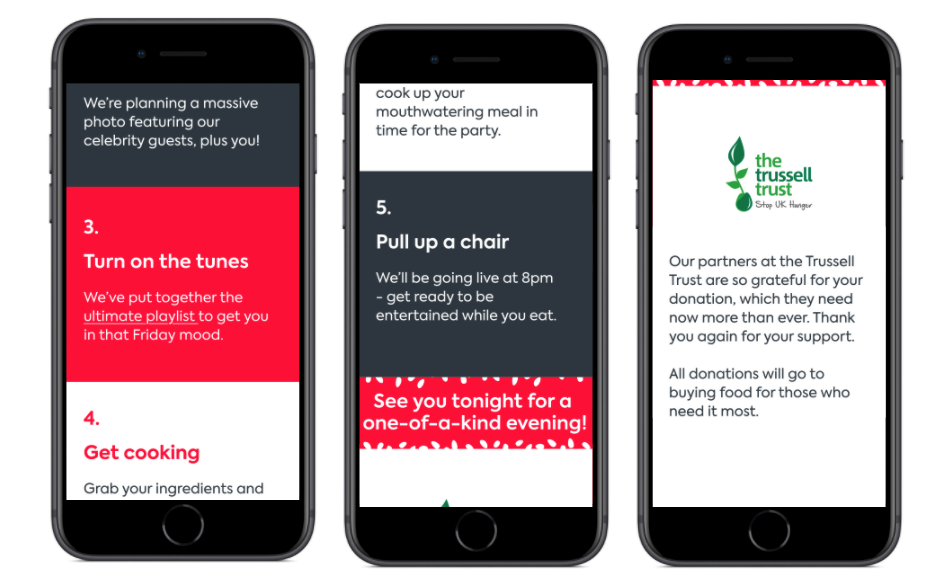 The results speak for themselves - this content-led approach had much stronger engagement and saliency than previous campaigns

We increased brand awareness by 3 points nat rep, and by 5 for our core audience - that's more than any other gousto campaign to date (as a comparison we'd normally require x3 that spend for tv & media campaigns which indicates how strong the creative and cut through of the idea was)

We secured 288 pieces of coverage, including top tier titles such as Sky News and the Telegraph with 93% share of voice. On social, we had a reach of over 16.4 million from influencers, with an extra 1.2 million from our own channels.


Coverage:


"Katherine Ryan on dream dinner guests, cancel culture, and not staying silent" - Sky News

"David Haye interview: 'It would be optimistic to get 20,000 people sitting next to each other this year'" - The Telegraph

"Nick Grimshaw's love of food has gone to a whole new level during lockdown" - MSN

"Gousto enlists Nick Grimshaw to host online dinner party" - PR Week & Campaign Live

"Gousto and Manifest cook up a dinner party for a million guests, hosted by Nick Grimshaw, Paloma Faith, David Haye and Katherine Ryan" - Creative Moment

"Gousto aims to bring 1 million Brits together for a virtual dinner party" - Retail Times

"Table for 1 Million – the UK's BIGGEST virtual dinner party" - Events for London

"These are the celebrities hosting the UK's biggest virtual dinner party - and how to join in" - News Letter


But then - disaster struck




Although it wasn't the finish we were expecting, we channeled the Gousto attitude with our post-campaign comms, putting humour and humanity into our social posts and responses, to maintain the campaigns 93% positive sentiment score.

So whilst it was disappointing the event didn't work out as expected, the idea of Table for 1 million was totally right for us - it was exactly the right moment to do something like this, and it was right for the brand and for our audience, so our key learning is to continue to push this creative bravery even further and carry on dreaming big.

And we raised over £40,000 for the wonderful Trussell Trust foodbank network!

"We set ourselves a hugely ambitious goal to create a once in a lifetime event in under 5 weeks. The collaboration within the team and the copy direction from Sophie was fantastic. With everything from the landing pages, sign up experiences, social posts, launch video, influencer content, instagram stickers, emails showcasing this exciting initiative and inviting the nation to take part. Whilst we had issues on the night, the campaign was a huge success, exceeding all targets; and helping us to recover brand awareness / health at a really critical time." Anna Greene, Gousto Brand Director

● 17 million people came into contact with the campaign and were left with positive impression of our brand

● Promo video reached 600k views

● 16,000 people signed up for live event, with email addresses acquired for future marketing

● Social content saw a 2x increase in brand awareness vs. our previous Facebook brand campaigns

● +3pp increase nat rep brand awareness in May and +5pp increase amongst core 35-44s

● We had 93% positive sentiment on all social posts re. our response to issues on the night

"Despite botched virtual meal stunt, there's an insatiable hunger for Gousto" - The Drum


CREDITS
Senior Copywriter: Sophie Lain
Senior Designer: Nicola Woowat
Photographer: Sally Robinson
Brand Director: Anna Greene
Head of Brand & PR: Carlie Wittred
Senior PR Manager: Natalie Jay
Brand Manager: Harriet Knight
Agency: Manifest