Crisis Comms
Ingredient shortage

COVID-19

Ingredient shortage


Due to a perfect storm of COVID, Brexit, Suez, and extreme weather, we had a sharp increase in ingredients issues in autumn 2021, with many customers receiving multiple issues every week.

Working with a cross-functional team we set out to reframe ingredient swaps in customers minds to give them confidence that where swaps occur, they do not affect the integrity of the dish. Our goal was to have a positive impact on NPS and brand love.

Using emails, social posts and an in-box flyer, we communicated our sourcing struggles to customers to prepare them for ingredient shortages.


Email



Our email about ingredient quality had a 37% open rate, and included tips on how to best store ingredients so they last longer. The CTA in these comms directed customers to the self-service mechanic, reducing contacts to Customer Care.

Social

In-box flyer



We also created a game on instagram stories to educate customers on how to store their fruit and veg for a longer shelf life, reaching 54,904 users.





The CTA in these comms directed customers to the self-service mechanic, reducing contacts to CC

Overall NPS increased 2 points to reach 56, and the email and social comms had strong engagement.

We watched closely to see customer reactions on social, and saw that whilst customers were frustrated, they valued our transparency - which is so important in building trust.


CREDITS

Senior Copywriter: Sophie Lain
Designer: Ed East
Social Media Executive: Megan-Rose Allcock
Head of Creative: Katie Rosen


COVID-19


Corona came from nowhere, we needed to start our content calendars from scratch, to fit them to the current climate. The marketing and creative teams joined forces like never before to integrate content calendars for a new weekly newsletter with our social channels plan, enriching the lives of people who aren't currently able to order with content. They still wanted our advice on cooking dinner, so we kept serving up lots of full recipe content and helpful tips for cooking dinner.

We also asked our customers on the newsletter and on social what content they wanted to see and tried to ensure that anything we served was timely, helpful and brand lead.

Social media posts during height of outbreak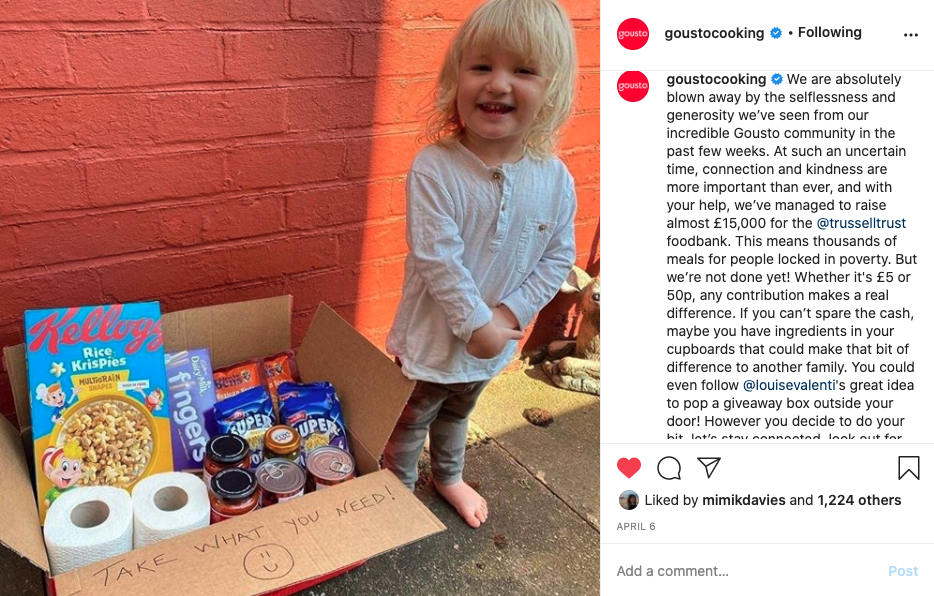 Banners added to autmated emails



"Sometimes it takes the worst of times to see the best in people. I'm astonished by the consistent quality of work that Sophie has produced during lockdown. Particularly in the first 6 weeks. The pace and demands on the team were relentless but Sophie shone through. Every piece of communication was impeccable, with such craft and attention to detail. It's no wonder that Gousto was held up as a 'best in class' case study by Facebook and Trustpilot for our handling during the crisis. Meanwhile bigger brands including Ocado received critique for their lack of comms."
Anna Greene, Gousto Brand Director

Instagram stories (templates for followers to screenshot and share)


Existing customers were reassured about Gousto's response to the outbreak

Disappointment of customers who couldn't order was managed

New customers were met with on-brand comms, so we could acquire them at a later date

Customer Care Team were prepared to respond to contacts with appropriate templates
Record high NPS at 96%

Record high Customer Satisfaction in April at 87.8%


Help pages were kept up to date with relevant FAQs that reassured customers and reduced the number of queries coming into the Customer Care Team.


CREDITS

Senior Copywriter: Sophie Lain
Senior Designer: Nicola Woowat
Junior Designer: Sarah Chadder
Social Media Executive: Megan-Rose Allcock
Brand Director: Anna Greene